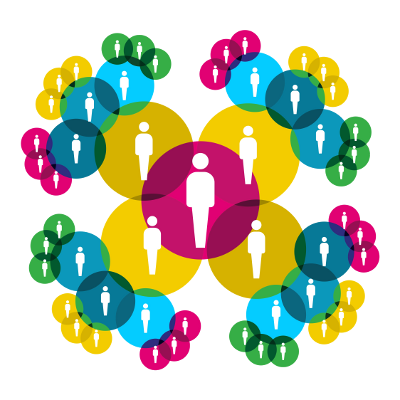 Summary of the Workgroups Feature
This Hosted PBX feature is directed at large organizations with multiple departments and/or branch offices. Segmenting the system into workgroups allows for each department to customize the system, for their own organization, while having the assurance that other departments or branch offices will not be impacted.  Accompanying the Workgroups feature is an enhancement in the flexibility of assigning permissions, specifically allowing a department or branch manager to modify aspects of the phone system related to his or her own department or branch. 
Original Need
Integrated and Autonomous Office Locations
A NJ-Based Real Estate Company with multiple offices across the state being served by our cloud based phone system originally introduced the need for Workgroups. The unification of their offices under a single phone system provided many efficiencies. This allowed them to dial by extension from all of the locations, and use other features of the phone system, as if they were all sitting within the same building. There are many distinct features, like extension- to- extension dialing and transferring, that need to be fully integrated across all office locations.
There are other aspects of the system that they needed to be expressly segmented by office location. For example:
Different offices have different office schedules which determine when the closed message will be played, and when the call will be routed to available personnel.
Some offices open and close based on an automatic schedule, other offices are manually opened and closed by dialing a feature code.
Branch Managers need to be able to make changes to how calls are routed through Call Queues or Hunt Lists, and only for their own branch.
Branch Managers need to be able to add, remove, and change extensions as employees come and go, and only for their own branch.
Calls are recorded for quality assurance. Each branch manager is responsible for reviewing call recordings, and only for their own branch.
To address these needs we developed the workgroups feature. For each branch office we created a workgroup. We associated all of the users, extensions, telephone numbers, call queues, etc. with their respective workgroups. We assigned a branch manager administrator permissions within their respective workgroup. This had the positive effect of empowering the branch managers.
Ultimately the phone system is a tool to assist your business. Managers need access to the controls of the system to tweak them in ways that improve the operational efficiency of the company. Workgroups deliver that operational efficiency to branches and departments and even smaller groups of employees.
Workgroup Details
Workgroups are hierarchical. Workgroups within other workgroups are supported. An example of this could be a sales department within a branch office, both of which are underneath the corporate umbrella. 
The following features have built in support for Workgroups.
Users / Extensions
Call Recordings - Create a workgroup and add any number of employees to that workgroup. Then select an administrative user and grant that user permission to listen to call recordings from only that workgroup.
Telephone Numbers / DIDs
Hunt Lists
Schedules
Office Modes
Learn more about Hosted PBX, our extensive suite of features, and how large organizations with multiple offices can be served economically and efficiently.